An Interview with Cloud 9 Golf & Travel Managing Director Jonathan Alden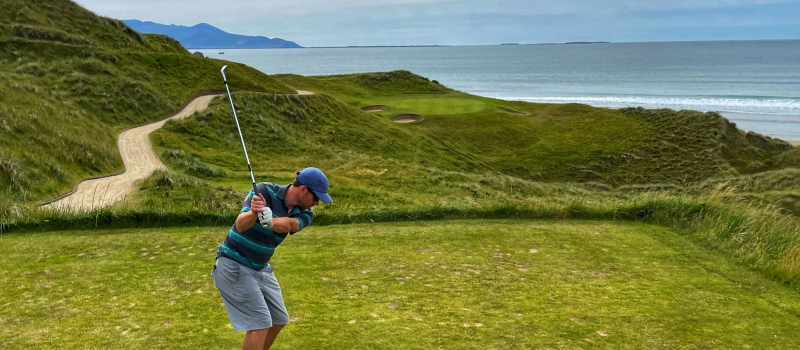 Jonathan Alden is a lifelong golfer and the managing director of Cloud 9 Golf & Travel. Below is an interview with Jonathan so you can get to know him a little bit better.
Q: How would you describe your relationship with the game of golf?
A: In many ways it has shaped my life. It's how I spent my afternoons growing up as a kid, it impacted my decision on where to go to college, and ultimately it led me to the job that I have now that I love so much. Perhaps more than anything though, and I know this sounds cliché, but the game has taught me so many life lessons. Success in golf requires honesty, focus, confidence, hard work, patience, self-motivation and so much more. It is truly the greatest game!
Q: How did you get into the business of selling golf vacations?
A: Purely out of passion. Like so many people I know, I left college unsure of what I wanted to do. I worked a few different jobs after school, finally settling into a role as an actuary for a few years. It felt like a grown-up job and paid well but it sure didn't feel like what I wanted to do with my life. I knew someone at the time who was selling golf trips and that sounded like a heck of a lot more fun to me. I had a golf background and had traveled much of the world so it seemed like something I could be successful at and definitely something I could enjoy. I got home from work one day (one month before my wedding!) and told my wife I was quitting my actuarial job to sell golf trips. The rest is history.
Q: What do you think are the important factors for a great golf trip?
A: Playing great golf courses while in great company. Everything else is a bonus.
Q: What do you think are the key characteristics to a great golf course?
A: Wow, how long do we have here because I could go on all day. I absolutely love this question because it is really at the core of the discussions I have with so many clients who want suggestions on which courses to play. I tend to focus on three key criteria: Visual Appeal, Ambiance/Experience, Memorability/Uniqueness. 
For me, and I think for most clients, visual appeal is the most important. I don't care who you are, if you stand on the 12th tee at Old Head you can't help but be in awe. Meanwhile, the ambiance of a course is perhaps a bit more subjective and nuanced, but it is important as well. The first tee at the Old Course in St. Andrews is about as boring of a tee shot as you will ever find visually, but it is one of the most exhilarating spots in golf. And finally I want a course to show me something I have never seen before. Whether it is an interesting and well thought-out design or a collection or quirky holes that end up etched in my memory, a great course should distinguish itself in some way. Golf is an experience, so more than anything I want to be left with vivid and long-lasting memories.
Q: Okay, so what is your favorite golf course in the world, and why?
A: I have been asked this question many times and not only do I have more than one answer but it seemingly changes by the day. Is that allowed? First, I'll say that one of the most important things to me personally is that I can play a course and have a clear recollection of each hole. There are some amazing courses in the world that check most of the boxes that I outlined above in terms of what makes a course great, but they leave me feeling like I played the same hole 18 times.
With that said two courses stand out to me: Tralee in southwest Ireland and Cruden Bay along Scotland's northeast coast in Aberdeenshire. The back nine at Tralee is simply incredible, as the layout rises and falls through massive dunes and everything seems so vast looking out across Barrow Beach towards the Atlantic. I also love the variety of holes throughout, including the overlooked but fun front 9 which is very different from the back. Meanwhile, Cruden Bay truly checks all of the boxes. It's well over a century old and laid out amongst towering coastal dunes with a one-of-a-kind assortment of holes; blind par 3s, punchbowl greens, things you just don't see any other place. Not to mention the club always is great for a friendly welcome and banter over a cold beverage after the round.
Q: Your first ever golf trip was at Bandon Dunes when you were in high school. Tell me about that experience. How much of an influence did that have on you?
A: It epitomized what I think the perfect golf trip should be and it's what I am trying to recreate for our clients (and for myself again from time to time!). My best friend from childhood and I traveled with both of our dads up to Bandon for four days of golf. The courses are obviously incredible, but there was something about being detached from the rest of the world with nothing but golf, friends and family for several days that made it so memorable. A great golf trip can help me escape the hustle and bustle of my otherwise busy life and I remember for those four to five days in Bandon, it felt like there was no place in the world I'd rather be.
Q: Could I beat you at golf? I'm about a 5 handicap. Tell me about your golf accolades and accomplishments.
A: I'm a plus handicap so you probably won't beat me but I'm sure we could have a fun match. I play a lot of stress-free golf when I'm traveling or with friends and family, but it is also my competitive outlet. I played college golf and I still love to compete whenever possible. You'll find me competing in many of our local and state tournaments with some successes here and there. I certainly don't have as much time for it as I used to, but I still love trying to get better and I doubt I will ever stop.
Q: There's a lot of options when booking a golf trip. What separates your business from the rest?
A: From day one I have tried to treat every client's trip as if it were my own and that is the backbone of the culture we have developed. When clients book with us they get more than just a golf trip package, they get dedicated service from the initial consultation all the way through the trip itself. We say that happy clients are our only measure of success and I believe that those who have traveled with us will know that we mean it. Not only do they come back as repeat customers, but we develop friendships with many of them that stem from cherished memories of a great trip.
If you have questions about the trip planning process, or just generally want to talk golf and/or travel, please don't hesitate to contact Jonathan and Cloud 9 Golf and Travel at 1-833-464-6539 today.