How To Play The Old Course
Our Guide To Getting A Tee Time On St. Andrews' Famous Old Course
OR You check out our favorite Scotland itineraries Here.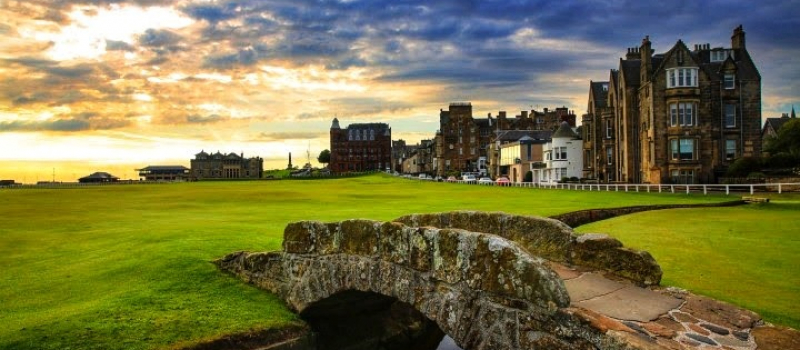 3-Step Process:
1. Advance Application: Every golfer planning a trip to St. Andrews should enter their group into the St. Andrews Links Trust Advance Application lottery. Its easy, there are no obligations, and it is the only way to get a face-value tee time in advance of a trip. The application is usually open from late August through early September and group leaders can enter groups of up to 8 golfers for up to 6 weeks for the following year's peak season (mid-April through mid-October). You will then be notified of the application results in October. Since tee sheets and hotels book up early, we recommend booking your trip for your desired dates of travel prior to the application results being published. We can then make necessary adjustments to your bookings around an Old Course tee time, if necessary. Note that there are off-peak advance booking options as well, so if you are looking to travel during the shoulder season (late October and early April) or winter season (November – March), then please contact us to learn more.
2. Daily Ballot: If you don't get a tee time via the Advance Application, your tee time options are by no means exhausted. The daily ballot is another tee time lottery run by the St. Andrews Links Trust and a substantial portion of the tee sheet is filled through the daily ballot each day the course is open (note: the Old Course is closed on Sundays). The ballot process takes place two days prior to each day of play and we will enter your group into the ballot for each day you are in St. Andrews. If you receive a tee time that conflicts with any other round on your itinerary, we should have no problem amending your other bookings to accommodate that important round!
3. Stand-By List: A great fallback option if you are unlucky and don't get a tee time through the advance application or daily ballot is the starter's stand-by list. Somewhere between 10-30 tee slots, on average, are open each day to be filled on a first-come, first-served basis. There is no luck involved, its simply a matter of beating everyone else to the first tee starter's hut early in the morning.
While not guaranteed, your chances of getting on the Old Course via our three-step process above are near certain and you will pay the public green fee rate (£195 in 2020) for your round. It's straightforward and we recommend this process to anyone hoping to play the Old Course.
There are also a small number of premium guaranteed tee times given out each year to tour operators and St. Andrews accommodation providers, but these are limited and have a price tag of around 5-7 times the public green fee rate. Of courses there is no luck involved, just a pretty penny, so this option still interests some clients. If would like to learn more about premium guaranteed tee times please let us know.