5 Aside: Planning A Scotland Golf Trip
1. Keep and open mind. St. Andrews is great but Scotland is more than a one-trick pony. There are no fewer than 5-6 golfing regions that deserve serious consideration for inclusion in a bucket-list itinerary:
St. Andrews, Fife: The Home of Golf.
Ayrshire: Scotland's densest collection of Open Championship hosts.
East Lothian: Closest championship courses to the historic capital city of Edinburgh.
Highlands/Aberdeenshire: Stunning beauty, historic castles and world-class golf.
Remote West/Northwest: Simply put, the adventurous golfer could do no better.
2. Choose your dates wisely. Depending on where in Scotland you are going, there are several timeframes during the warm travel season that you may want to avoid. If you plan to travel to St. Andrews, be cognizant of the Old Course busy dates (can be found here); especially be wary of September and early October when the Old Course is typically closed for several weeks for the R&A and European Tour. Also, those wishing to visit Edinburgh may want to avoid August, when the city is generally overrun with festivalgoers for a nearly month-long celebration of the arts.
3. Know the visitor tee time options. Speaking of travel dates, several of Scotland's top courses, like Royal Troon and Muirfield, only offer tee times to visitors on certain days of the week so its important to plan accordingly. Also, if you are hoping to play St. Andrews' Old Course, you will need to decide whether you want to fork over some serious dough for a premium guaranteed tee time or take your chances with the much more cost-effective lottery options. Regardless of where you plan to play, it is imperative to start planning early as the top courses can book up over a year in advance.  
4. Plan (at least) a day in the city. No matter which golfing region you choose to visit you will almost certainly be flying in and out of either Edinburgh or Glasgow, which are centrally located an hour apart in the heart of Scotland. Considering the significant history and dynamic culture that these cities have to showcase (especially Edinburgh!), it's a no-brainer to add at least a day to explore one or both of them at the beginning or end of your trip.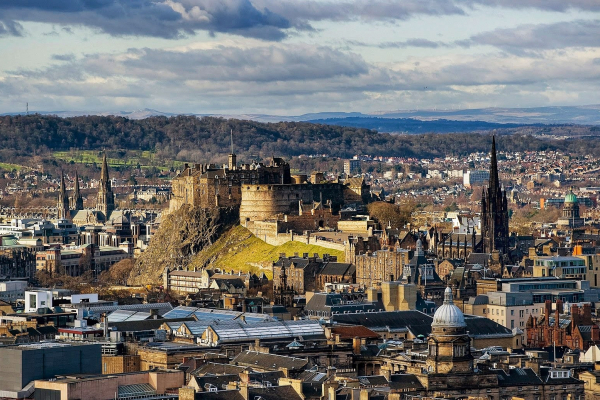 5. Consider your transportation requirements. Unlike Ireland, for example, where the golf courses and major cities are widely dispersed, Scotland's major cities and several of its top golfing regions are tightly packed together in the middle of the country and courses are often just a few minutes' drive (or walk!) from the most popular hotels. This means that renting a vehicle or hiring a full-time driver isn't a necessity. In fact, trying to get around places like Edinburgh or St. Andrews in a car is often more trouble than it is worth. We'd recommend pre-booking any necessary airport and golf transfers that you know you will need and then relying on taxis or trains to move around once you arrive.